Reliable Furnace Repair and Replacement in Hamilton County and Indianapolis, IN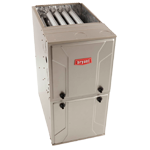 It's the middle of winter in Indianapolis, and your furnace refuses to turn on. You need heating furnace repair, and you need it fast. Luckily, Edge Guys HVAC offers emergency services 24 hours a day, seven days a week in Indianapolis, IN, and the surrounding areas including Carmel, Fishers, Westfield and Noblesville, Indiana.
Thorough Repairs
It is best to avoid furnace breakdowns in the middle of winter by keeping up with a regular maintenance schedule. If you want your furnace to last as long as possible and to keep running efficiently, you should schedule regular maintenance checks with Edge Guys HVAC.
All of our service professionals are licensed contractors and specialists in the heating and cooling industry. We have access to the tools and equipment we need to keep your furnace running all year long.
Affordable Replacements
Even when you take good care of your furnace, it is eventually going to need replacing. In the event that your heating system is beyond repair and you need a furnace replacement, Edge Guys HVAC offers a wide selection of furnaces to fit every home and budget. We take the time to evaluate the setup and size of your home so we can recommend an efficient system to fit your needs.
We understand that the cost of replacing your furnace can be overwhelming. With credit approval, we offer flexible monthly payments to suit your budget. You can pay for heating repairs or a brand-new piece of equipment in manageable installments.
When you get a new heating system, you receive a 10 year standard factory parts warranty and a one year labor warranty through Edge Guys. Should you encounter a problem with your new equipment, we will send one of our skilled technicians to resolve the issue.
Whether your furnace needs a tune-up, a major overhaul, or a complete replacement, call Edge Guys HVAC at 317-595-9720 today. We are ready to handle any heating or furnace issues you may have.