4 Ways to Prepare Your Air Conditioner for Fall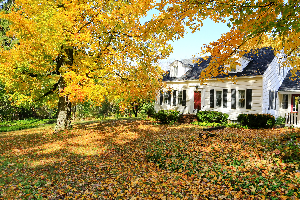 September 20, 2017
Summer is still in full swing, but the fall months are just around the corner. Soon, hot summer days will give way to noticeably cooler weather. This means you won't be using your air conditioner as often or at the same intensity as before.
Right now's a good time to get your air conditioner ready for the fall months ahead, which may include a few months of minimal usage. In some cases, your A/C system may even be completely dormant by late fall. Here are a few good tips that can help you get your air conditioner ready for fall weather.
Replace Your Air Filter
Checking and replacing the air filter is one of the first things you should do to prepare your air conditioner for the upcoming fall. There's a good chance your A/C system hasn't had its air filter changed since the beginning of summer, and the resulting buildup of dirt, dust and other types of unwanted debris can easily put a drag on your A/C system's performance.
Cleanliness equals good performance for your air conditioner, so it's no surprise that a clean air filter can help it perform well throughout its life. In fact, you should change your air filter on a regular basis.
Pick Up Around the Outdoor Cabinet
Another thing you want to do before the fall arrives is to check your air conditioner's outdoor cabinet and remove as many leaves, dead branches and other debris from around it as possible. You should also remove nearby weeds, tall grasses and other vegetation that could potentially block air from flowing into the A/C unit through the bottom of the outdoor cabinet.
The condenser coil within the cabinet could also use a thorough cleaning, since it's likely to be caked with dust, dirt, bugs and other debris. You can remove light dust and debris by rinsing the condenser coil with the garden hose. For more stubborn debris, you may need to use a mild detergent and a soft-bristle brush or a spray-on coil cleaner to get the job done.
Have a Professional Take a Look at It
Regularly scheduled maintenance is the key to a long-lasting air conditioning system. You should always have a licensed and trained professional inspect and perform maintenance work on your air conditioner towards the end of the summer season.
In addition to the basic inspection and fall tune-up, your HVAC technician can also spot and correct issues that could turn into major problems without timely intervention. These include refrigerant leaks, unusual parts wear and A/C wiring issues.
You can always turn to Edge Guys HVAC whenever you need to get your air conditioner prepared for the upcoming fall and beyond. Their preventive maintenance services can help keep your air conditioning system on the right track.